Compared with January 2020 sale of homes in Spain decreased by 15.4% in January 2021. The Spanish Registrars Association mentioned it in the information note.
Registered home sales in Spain
According to published information, sales, which recovered in the last quarter of 2020, except a fall in October, again slowed in January. Total sales went from 89,578 in January 2020 to 77,492 in January this year.  It showed a decrease of more than 12,000 operations. Home sales decreased from 44,251 operations in the same month last year to 37,416 in January this year. The decline was more than 6,800 operations.
The total purchases registered in January of this year compared to the same month of 2020 decrease by 13.5%. This is in contrast to the increases of November and December. And also it shows the biggest decrease since July 2020.
House sales also decreased in January by 15.4% annually. And – the same – it is the biggest decline since last July.
Registered mortgages in Spain
Registered mortgages, which already showed significant falls in December, sharpened their decline in January. Total mortgages in January of this year decreased by more than 18,000 transactions over the same month of 2020. From the 53,419 total mortgages in January 2020 they were increased to 35,224 in the same period of this year. Similarly, mortgages on housing also registered a decrease of more than 11,000 transactions. According to numbers:  from the 37,363 housing mortgages registered in January 2020, to the 26,002 transactions of this last month of January.
As for the total mortgages, in January 2021 there is the biggest annual fall since the beginning of the crisis, showing a decrease of 34.1% annually. This data sharpens the negative trend obtained in the month of December (-18.5%). Similarly, housing mortgages in January 2021 also decreased with great intensity, by the 30,4%. And it is also the largest decline since the pandemic began.
Property market results by Autonomous Communities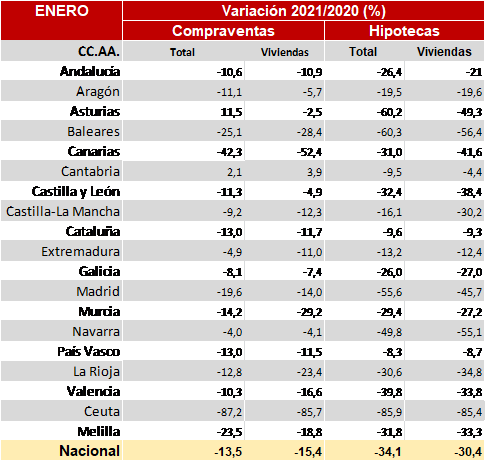 In terms of total sales, all territories, except Asturias and Cantabria, experienced falls.  The largest decline was recorded in Ceuta (-87.0%), followed by The Canary Islands (-42.3%), Balearic Islands (-25.1%) and Melilla (-23.5%).
Negative dynamics in  total mortgages were produced in all territories. Especially in the autonomous city of Ceuta (-85.9%), followed by the Balearic Islands (-60.3%), Asturias (-60.2%) and Madrid (-55.6%).
Annual evolution of purchases and mortgages registered in Spain
Finally, the monthly analysis of the annual evolution of purchases and mortgages registered in the property registers during the last twelve months, from February 2020 to January 2021, by comparison with the same month of the previous year, shows the following results: